His Willing Captive
Bad girl gone good meets a vampire who's good at being bad. Can she resist becoming his willing captive? Or is his touch, his bite just want she's been waiting for?
"Emma Petersen's Seducing St. Nic is a keeper. From beginning to end
it is laugh out loud funny. Barbara Jean and Cypriano captivated me from the beginning and had me wondering when these two were going to get together. Watch out, because when they do... it's sizzling!"
-Ecataromance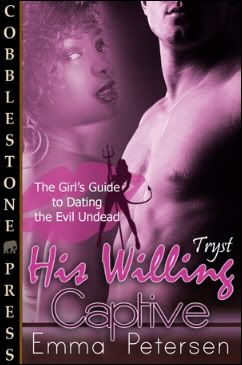 The third installment in the best selling The Girl's Guide to Dating the Evil Undead series is available today. Isa is back and Paulo's trying to convince her to become His Willing Captive.
Blurb
:
When Isa Simmons finds an uninvited vampire in her living room the only weapon she has is a butter knife. But a butter knife isn't going to help her get rid of this big blond brute. Soon, Isa isn't so sure she wants to get rid of him at all.
Excerpt from Chapter Two:
I awoke slowly. The most incredible dream tantalized my subconscious. I could only hope I hadn't sighed or moaned in my sleep. Even though my sister was married and pregnant and I had been pregnant without the married part, Nina still treated me like I was twelve sometimes. So explaining my incredibly realistic and erotic dream wasn't a conversation I wanted to have.
The mattress beneath me was foreign in its softness. Usually I woke to Nina's soft snores but the room was mysteriously quiet. I opened my eyes and confirmed my suspicions. I definitely wasn't in Kansas anymore.
I lay in a huge, walnut four-poster canopied bed with an angel soft feather mattress and glistening jewel tone curtains that blotted out everything else. I held onto denial like a long lost friend and tried to convince myself I was still dreaming but I was never a strong believer in fantasy.
There were only two explanations as to why I had woken up in a room that belonged to a harem scene out of some old
The Sheik Who Boinked Me
romance novel.
A, the huge, Viking vampire I'd found in my living room had killed me.
B, said vampire hadn't killed me, but kidnapped me instead.
Attempting to stretch, I was bought up short by a tether looped around my wrists and secured to the headboard. Hmm…interesting.
I'll take kidnapped for one hundred, Alex.
I guess waking up tied to a strange bed really brings one back to reality. Not that I'd ever woken up tied to a bed before, strange or familiar.
I waited for panic and terror to set in. Even though I didn't have a lot of hands on experience as either an abductor or abductee, I imagined there'd be hysteria, begging and fear. And the kidnap victim would be rather upset, too.
Yet, I was surprisingly calm. I refused to believe this had anything to do with the little game of slap and tickle and the incredible orgasm back in my apartment. Heat crept up my cheeks as I remembered grinding against him, panting and begging him for release.
Damn
.
And boy did he give it to me. Right
before
he bit me.
Click here to
purchase
Join me today at
Romance Bistro
! Where I'll be discussing all of my work and giving away a copy of His Willing Captive!
Labels: Emma Petersen